Reopening responsibly: Dubai government offices can operate with 100% staff from tomorrow
13th June 2020
The government has stressed on residents' commitment to precautionary measures to curb the spread of Covid-19.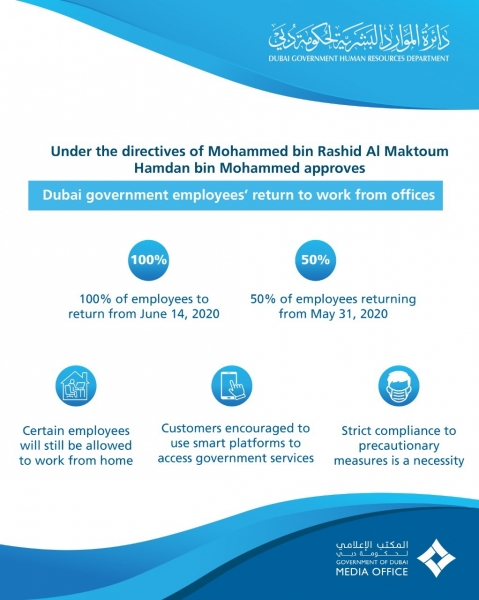 Government offices in Dubai will be allowed to operate at full, 100 per cent of their capacity, from Sunday, June 14.
The decision, announced on May 27 by Sheikh Hamdan bin Mohammed bin Rashid Al Maktoum, Dubai Crown Prince and Chairman of the Executive Council, is scheduled to come into effect from tomorrow.

As part of the same decision, private sector businesses and shopping malls were allowed to operate at 100 per cent capacity from June 3, 2020.
The Crown Prince affirmed that all precautionary measures will be stringently implemented and closely monitored to ensure compliance.

The decision is consistent with the Government of Dubai's measured approach to protecting the health and safety of citizens and residents and gradually reopening the economy. The Government is committed to supporting economic sectors and those impacted by the repercussions of the global crisis.
Sheikh Hamdan stressed that all government entities in Dubai must be fully committed to enforcing precautionary measures to protect the wellbeing of employees and customers.
In Sharjah, around 30 per cent of the government employees will resume work from offices on Sunday, June 14.
However, pregnant women, people with special needs as well as those with chronic ailments and immune deficiencies, according to approved medical reports, are excluded from returning to the workplace depending on the nature of their work. In addition to employees above 60 years, female employees who have school-going children in the ninth grade or below have been exempted until the end of the current academic year.

As restrictions began to ease over the past few weeks, businesses and public spaces are opening up in the country. However, the government has urged residents to remain commited to precautionary measures in order to curb the spread of Covid-19.
The UAE's Ministry of Health and Prevention has called on the public to cooperate with health authorities and adhere to social distancing protocols and preventative measures to ensure the health and safety of all.