Dubai Maritime City Authority & Hamburg Chamber of Commerce Discuss Maritime Cooperation
31st January 2018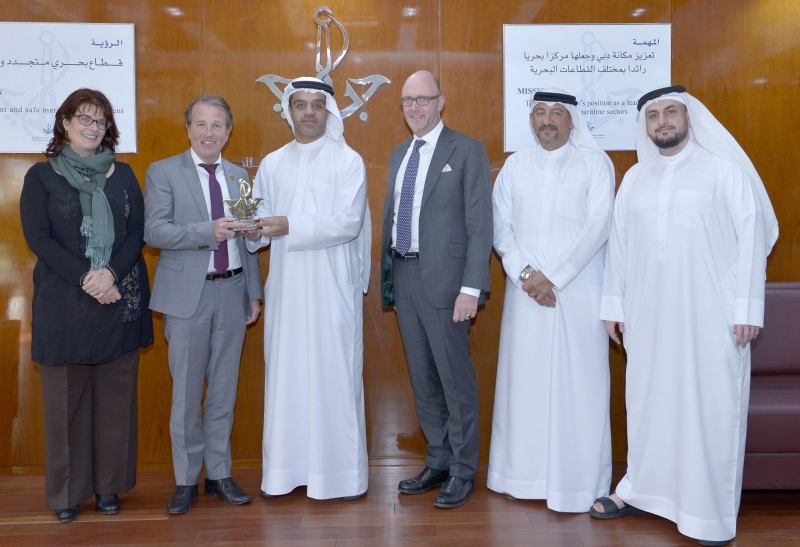 Dubai Maritime City Authority & Hamburg Chamber of Commerce Discuss Maritime Cooperation
Meeting reviews MOU signed by DMCA's Dubai Maritime Cluster Office & the Maritime Cluster of Northern Germany to promote investment opportunities
The Dubai Maritime City Authority (DMCA) hosted a high-level delegation from the Hamburg Chamber of Commerce to explore the prospects for cooperation in areas that support the common aspirations of the global maritime sector. The meeting also emphasized the commitment of both parties in enriching knowledge and exchange of the most successful experiences and best practices in the sector, with maritime training and technological innovation as a key pillars for upgrading all aspects of the maritime cluster.
Amer Ali, Executive Director of DMCA, welcomed Prof. Hans-Joerg Schmidt-Trenz, Representative and Counselor, and Robert Lorenz-Meyer, Commissioner for International Affairs at the Hamburg Chamber, affirming DMCA's commitment to strengthen cooperation frameworks with the world's leading maritime clusters, in line with its efforts to position Dubai among the world's leading maritime capitals by 2020.
The meeting also included the follow-up of the MOU signed by the DMCA's Dubai Maritime Cluster office and the Germany's Maritime Cluster Norddeutschland during 'Dubai Maritime Agenda 2017' as well as a discussion on its pivotal role in empowering maritime industry leaders to further contribute to explore the future of the global maritime sector and to support innovation and technology as key pillars for the development of maritime clusters, in line with the rapid changes of the twenty-first century. Both parties reviewed the impact of the strategic partnership on the development of an integrated framework to enhance the investment opportunities available in the maritime clusters in Dubai and Hamburg.
Ali pointed out the importance of joint meetings in opening new horizons in supporting international cooperation, which is a strategic priority and a step forward towards attracting new investments that enhance the contribution of the maritime sector in pushing the economic diversification of Dubai and the UAE to the post-oil economy. He emphasized that the visit reflects confidence of the world maritime leaders in Dubai as an influential force in shaping the future of the global maritime industry, based on its pioneering experience in developing one of the world's most competitive, attractive and comprehensive Maritime Clusters.
"We look forward to exploring new opportunities for bilateral cooperation with the Hamburg Chamber to promote the strengths and competitiveness of Dubai in the maritime industry and among the investors in Germany. We are committed to follow up the MOU with the Germany's Maritime Cluster Norddeutschland, which draws a clear roadmap to promote the promising investment opportunities in the Hamburg and Dubai Maritime clusters, which is an active partner in the development of international maritime clusters with its outstanding achievements in the development of maritime policies and infrastructure, in line with the international best practices in operational efficiency, marine safety and environmental protection," Ali concluded.